Lion Island Circumnavigation  – Sunday 12th January 2020
This is the second time we have carried out this paddle. It was also delayed by a week due to the wind forecast.
The weather was favourable for an early start from the southern end of Ettalong Beach, sometimes referred to as Kiddies Corner. There was plenty of cloud cover and a 1.5 metre swell. A south westerly wind of about 10 km/hour picked up  localised waves.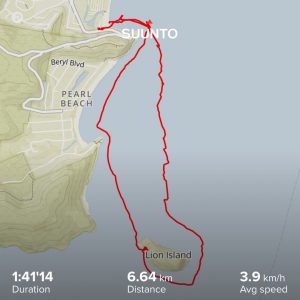 Slow paddling from the beach across to the Eastern extreme of Lion island made for a slow transition and extended track distance. We diverted a couple of paddlers directly to the beach at the western end to await our rounding of the island. This gave increased speed to the group to complete the rounding of the island.
It was interesting to paddle through the edge of a bait ball being made a meal of. We only sighted the sea birds taking their breakfast, but kept a wary eye out for other inhabitants.
We stopped at the beach on the South West corner of the island to eat, drink and socialise. I am finding an increasing number of paddlers who have been with us for a while developing a liking for paddling through swell and wave combinations.
For the return trip, the wind had started to moderate, but still gave us a great ride across to Pearl Beach. Observing the characteristic shore break for which this beach is renowned, we decided to forego a landing and head home.
Back at Ettalong we needed to beach through a small wave break. Only a couple made it through without having to swim……. We will have a surf practice day before the summer weather is over.
Thanks to Steven for Sportstrack and the pics