Participants: Colin North, Trish Treagus and Steven Constantine.
This was a limited participation exploratory trip to explore Popran Creek from its source up to the Glenwood Valley area.  We were seeking to investigate future paddles and possible overnight camping sites.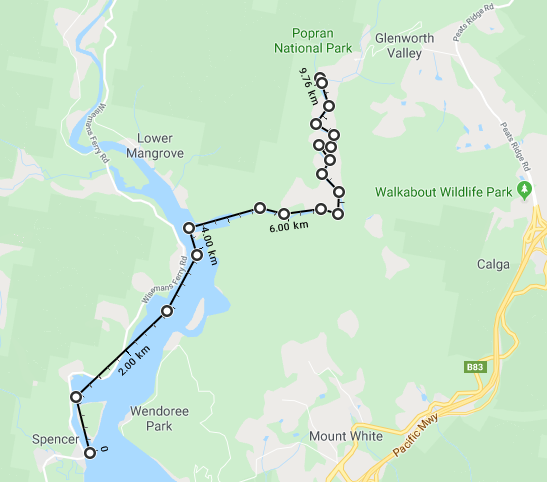 We made an early start from the boat ramp at Spencer at 0720 and racked to the mouth of  Mangrove Creek.  Three km from our start we diverted into the Popran Creek tributary.  The resident Sea Eagle kept a beady eye on us as we traversed his domain.
Popran Creek gradually narrowed and we found a number of flats on the southern bank which were receptive to either camping or lunch breaks.  Found a very interesting field with an old stationery steam boiler; a leftover from a Cedar logging operations in the late 1800's .  The timber would have been floated down Popran Creek to the Mangrove Creek which was used to transport timber out of the Dubbo Gully region.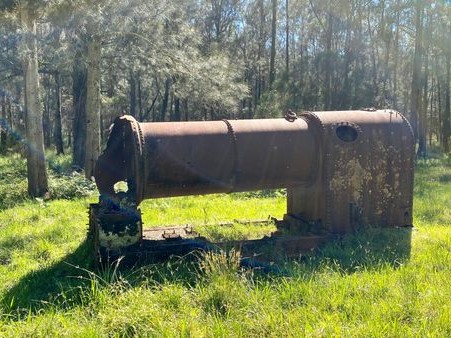 Further up we passed through the constructs comprising the "Tough Mudder Classic" obstacle course operated by Glenworth Valley.  Great effort by this group in attracting participants to the area.  This is a significant investment into local tourism.
After a lunch break, we returned with the aid of a receding tide.  Colin and Steven proceeded to Gentlemans Halt to check the camping ground.  All in pretty good condition except for the junk that some campers leave behind.  Did manage to get a piccy of a very healthy goanna…. gave me food for thought as to the inspiration behind aboriginal art.
Returned to Spencer for a coffee at the Spencer Village Store before packing up and heading home.